Technology Stack
---
Server OS

CentOS (abbreviated from Community Enterprise Operating System) is a Linux distribution that attempts to provide a free, enterprise-class, community-supported computing platform which aims to be functionally compatible with its upstream source, Red Hat Enterprise Linux (RHEL).
Frame Work
CakePHP is a modern PHP 5.4+ framework with a flexible Database access layer and a powerful scaffolding system that makes building both small and complex systems a breeze. CakePHP makes building web applications simpler, faster and require less code.
Presentation
HTML - Hypertext Markup Language, a standardized system for tagging text files to achieve font, colour, graphic, and hyperlink effects on World Wide Web pages.

PHP - PHP (recursive acronym for PHP: Hypertext Preprocessor) is a widely-used open source general-purpose scripting language that is especially suited for web development and can be embedded into HTML.

CSS - Cascading Style Sheets (CSS) is a style sheet language used for describing the look and formatting of a document written in a markup language.

AJAX - Ajax is a client-side script that communicates to and from a server/database without the need for a postback or a complete page refresh.
Database
MySQL is a freely available open source Relational Database Management System (RDBMS) that uses Structured Query Language (SQL). SQL is the most popular language for adding, accessing and managing content in a database. It is most noted for its quick processing, proven reliability, ease and flexibility of use.
Platform
Our solution works seamlessly on Windows and Linux based platforms.
Web Server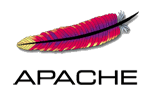 Apache is a freely available Web server that is distributed under an "open source" license. Version 2.0 runs on most UNIX-based operating systems (such as Linux, Solaris, Digital UNIX, and AIX), on other UNIX/POSIX-derived systems (such as Rhapsody, BeOS, and BS2000/OSD), on AmigaOS, and on Windows 2000.
Browser Compatibility
Our solution has been tested and is compatible to run on all three major browsers - Mozilla Firefox, Chrome and Internet Explorer.